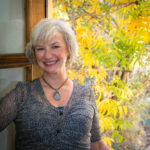 "Cheryl Leutjen is the best spokesperson for Earth one hopes to find. Not only is she informed about her subject, her knowledge also comes from intuition and from a place deep in her heart." ~Aliete G., Los Angeles, CA
Topics
"Saving our One Earth: Discover What You Can Do": one-hour keynote with optional one-hour workshop
"Nature is Speaking. Are We Listening?": one-hour keynote with optional half-day workshop
"Discovering Your Personal Call to Planetary Action": one-hour or half-day workshop
My Earth Canvas: two-hour creative workshop for adult or children
"Cheryl presented a warm, insightful and humorous look into Life and the challenges we all encounter trying to love Earth and being better stewards of our environment." ~Kathryn M., Santa Barbara, CA
Sample Client List
Throop Unitarian Universalist Church, Pasadena
Living Earth Center, Mankato, MN
Santa Barbara Woman's Club, Santa Barbara, CA
Sample Publications
BIO
Cheryl Leutjen's deep love of Earth, as well as her hope for a bright future for her children, fuel her passion for helping us all to respond to the ecological upheavals of our time with heart, hope, humor, and spirituality.
She aims not to lecture but to inspire and engage all of us to discover what we have the ability, time, and interest to do that will effect positive change.
She shares her experiences on the razor's edge between Earth-mindfulness and eco-madness to inspire all who seek to make a meaningful contribution.
She draws from her vast life experience as a geologist, environmental law attorney, spiritual practitioner, wife and mother to offer a unique perspective of our place in this moment in time.
She shares insights from the sages in Nature which reveal the wisdom we need to navigate a more Earth-loving path.

An interview with Cheryl Leutjen